Playing with business value
This week, Portia and I hosted two runs in London of the "Business Value Game" that Vera and I developed. As usual, we had a lot of fun hosting the session and got good feedback from the participants.
Brain Train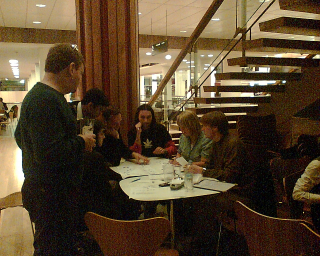 Portia started the Brain Train sessions as a way for friends and colleagues to get together to experiment with new sessions and games. Earlier this year, we presented the "Real Options Space Game" at a Brain Train session in the Royal Festival Hall.
Last Monday we were back in the friendly lobby of Royal Festival Hall. As players started trickling in we grabbed a few tables and chairs to set up the game. Portia and I each coached one team through the six iterations of the game.
Each team used different strategies. For example, one team lost an unhappy customer because they concentrated on the other more lucrative customers, while the other team ensured that each customer stayed happy. In the end, Portia's team won, even though they lost a customer.
After the game, we held a retrospective to see the good, the bad and the puzzling. The participants learned (or confirmed) some lessons about customer interaction, iteration planning, release planning, communication and teamwork. We'll publish the results of the retrospective.
Thank you Eamon, Roshni, Jenni, Mark, Ioana, Al, Mohan, Daniel, Dot, Tamas, Eben, Ashutosh, Archie and Maria for playing and giving feedback.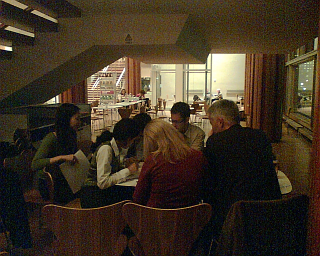 Agile Business Conference day 1

The next day, I attended the first day of the Agile Business Conference. The highlight of the program was a funny and energetic keynote talk by Rob Thomsett on Agile Project Management.
One of his learnings is that when we borrowed engineering and construction project management models we also inherited their prevailing culture. The relationship between "IT experts" and "Users" (a denigrating term) has always been adversarial.
Agile Project Management is about true collaboration and is based on a set of values:
Open: full participation and ownership by stakeholders.
Trust: team members and stakeholders are professionals who can be trusted to be committed to the project and the organisation.
Honesty: all people impacted or involved have a right to be told the truth; asking for help is a sign of strength.
Courage: Undertaking projects requires courage in many areas like telling the truth and asking for help.
Money: projects consume money. This requires a fiscal and ethical responsibility to be shared by all team members and stakeholders.
Rob concluded with some of concerns (silver bullet syndrome, lack of whole-of-life view, focus only on technical issues, lack of cultural awareness) and drivers (faster delivery, change friendly, more enjoyable, real teams, great values) of further Agile distribution.
In between sessions I talked to some acquaintances and met some new people. Together with Exoftware (thanks Andy!), we invited people to come to the next day's Business Value Game. By then, we had already updated the game with the feedback from the Brain Train tryout.
Agile Business Conference day 2
After the opening keynote we played another Business Value Game with 13 participants. This time my team won! Again, the players had fun and learned lessons about planning, teamwork and prioritisation. It's interesting to see how players react to the time pressure of the game:
one of the teams used some extra time to come up with elaborate strategies and tried to make decisions before they had all the information.
one team discarded information because they felt they didn't have enough time to examine the information.
All teams could have done better and worked faster if they had shared more information in the team and if they had only taken decisions when they needed to. But that's the subject of another game, the "Real Options Space Game".
Agile Business Conference – closing
One of the highlights was seeing Ole and Jenni from GoAgile in Denmark again. Thank you for the gift and the great conversations about sessions, presentation techniques and Agile project management. We still owe you an explanation of Real Options. Most of all, thank you for your enthusiasm.
The conference closed with a presentation on the "Responsibility Model" by Christopher Avery. Chris explained the difference between being given accountability and taking responsibility. His model explains how we typically react in the face of problems. Portia has a good writeup of the material. On the way back Portia and I had a lot of fun going through each of the steps in the model in an exaggerated way, because one of the "Keys to Responsibility" is Awareness of how we (re)act.
Come and play!
We got good feedback on the game. Portia, Vera and I are busy working on v2.0 of the Business Value Game.
If you want to play our games, come and see us at the following fine events:
29/10/2008 – Scandinavian Agile Conference – Helsinki – The Business Value Game
20-21/11/2008 – XP Days Benelux – Eindhoven – The Business Value Game and Mirror, Mirror on the Wall
11-12/12/2008 – XP Days London – London – The Real Options Space Game and a new game by Vera. Exciting!
Or you can download our games and play them at home.
Watch this space for the release announcement or come and play with us at one of the upcoming conferences and seminars.