Integrating Agile
I'm looking forward to next week's Integrating Agile conference in Amsterdam. On the program, a nice mix of local and international speakers. A keynote by Henrik Kniberg is bound to be interesting. I heard Rob Thomsett at the London Agile Business Conference, so I expect to be challenged and entertained. Some other sessions look interesting too, but it's hard to tell without further session descriptions on the site. Recommendation to the organisers: TO decide if I want to go to the conference and which sessions I'll attend I NEED to know what each session will be about.
Toyota Way
The program also features a new version of the Toyota Way session, most recently presented in Paris. I've presented about this topic since 2005 and the presentation keeps changing as I learn more. This time it will change more than usual, as I'm co-presenting it for the first time with Portia. As usual when working with Portia, we have more new ideas than can fit in one session.
So, what is the session about?
We present the principles and practices of the Toyota Way and Lean Management. We explain how we apply them by giving examples from our experience. We show how each of the principles does not stand alone but forms a system that brings enduring improvements.
What's in it for you?
See how the Lean Management principles of the Toyota Way have made Toyota a learning and improving organisation.
Understand how Lean and Agile relate to each other.
Learn how to apply this in your own organisation to make Agile and Lean transformations endure.
Lots of material
To give you an idea of what we talk about in 45 minutes.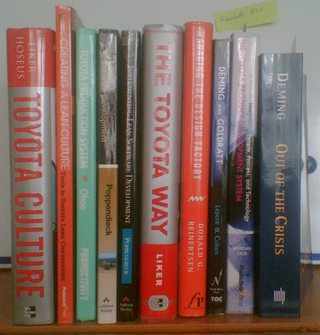 All of the wisdom in those books! Plus several years of experience applying these ideas in the real world.
It's a bit harder to take a picture of experience. Although there are some wrinkles and gray hairs I could trace…